Air Force One flew low, just 800 ft above the massive crowd gearing up to watch the 62nd running of the Daytona 500. President Donald Trump, with the First Lady, Melania Trump, took to the microphone and addressed the crowd: talking about the love of NASCAR, and the more important love of country. The tens of thousands in attendance cheered. He joked with FOX Sports about jumping in a car and racing a few laps. And after uttering the classic words of racing, he got into the presidential limo – affectionately known as "The Beast" – and led the drivers around the track.
There is not a single Democratic nominee who could come close to matching this level of showmanship, and not a one who could so connect culturally with America without Hollywood's help. No matter how many billions Bloomberg spends nor how Pete positions himself nor how Warren, well, lies, none of them could even dream of a moment that will so resonate with so many Americans across the country.
Even Bernie, who does connect with young voters with his message of Free! Free! Free!, can't capture what President Trump pulled off on a Sunday afternoon in Florida. So how does the Democratic apparatchik respond? Like this
Right. Sure. A political event. OK, boomer.
Everything the president does can be seen as political, regardless of party. There is no doubt that it can in this case as well. But snide, nonsense comments won't change the facts: It was politically adept. It was culturally connected. It was, even for the casual observer, what the Republican party has been unable to do for election after election after the election: Look normal. Look like they were having fun. And, yes, look cool.
Sometimes, it's best to say nothing. Know when you're beaten, and gear up for your next fight. But not Maggie Haberman, seemingly the embodiment of the Old Gray Lady. She not only has to comment, but she has to present it as if Trump is doing something wrong…immoral…unacceptable. Rolling Stone gave her cover by adding the racial element:
Trump is not the first Republican president to visit the Daytona speedway for NASCAR's biggest event of the year. Ronald Reagan, George H.W. Bush, and George W. Bush all made appearances at the race, which makes sense considering NASCAR's viewing audience tends to be mostly Republican and overwhelmingly (91 percent) white.
The Daytona 500 is not a "political event." It's a cool race and a great excuse to enjoy some Florida sun and drink beer (even when the race gets postponed due to rain, as it did on Sunday.) And, in case Haberman was unaware, presidents often show up to sporting events:
And sometimes, they use "The Beast" to pick up their friends…who are famous comedians…to do a talk show:

President Obama joined Jerry Seinfeld for a chat in "Comedians In Cars Getting Coffee"http://huff.to/1P6KZmr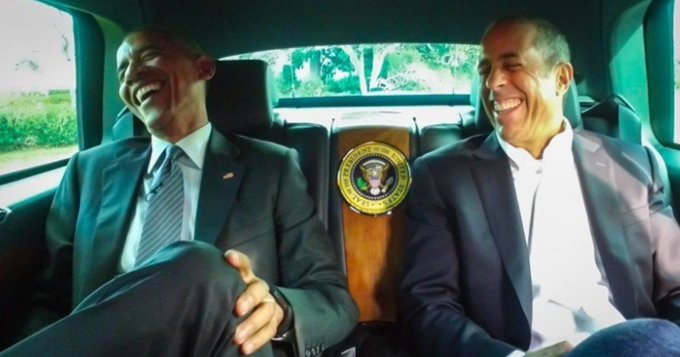 47611:02 PM – Jan 1, 2016Twitter Ads info and privacy261 people are talking about this
Trump was cool on Sunday. Trump won the day on Sunday. And the New York Times can't handle it.